Vacuum Supplies in Regina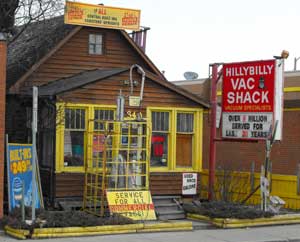 For the highest quality vacuums supplies in Regina, look no further than Hillybilly Vac Shack. In addition to vacuum cleaners, we offer repair services, central vac unplugging, and reconditioned vacuums and accessories. You can stop in our store, or call us to learn more about our sales and services.
Whether you need a simple vacuum cleaner for your home, a complex central vacuum system installed for a large commercial space, or anything in between, our Southern Saskatchewan vacuum company has solutions for all your cleaning needs. Call or stop in Hillybilly Vac Shack today to receive the products and services you need for a spotless environment, at home or on the job.
Sales
NEW Central Vacuum Cleaner Systems
NEW Portable Vacuum Cleaners
NEW Commercial/Janitorial Vacuums
NEW Industrial, Heavy Duty and Hazardous Materials Vacuum Systems
NEW Air Purification and Sterilization Systems
REBUILT Portable Vacuum Cleaners
Hoses, Powerheads, and Attachments
Parts and Accessories
BONA® Professional Hard Floor Maintenance Products
Central Vacuum Installation Supplies
Services
Central Vacuum System Installation
In-house Service for Vacuum Cleaner Systems
Unclogging of hoses, tubing, and suction units
CUSTOMIZED Vacuum Cleaners
REPAIRS for Central Vacuum Cleaners
REPAIRS for Portable Vacuum Cleaners
REPAIRS for Commercial and Industrial Vacuum Cleaner Systems
REPAIRS for Commercial Shampooers and Carpet Cleaners
FREE ESTIMATES
Up-FRONT PRICING and a 'No surprises' policy
FREE Education and Consultation